What Is Behind the Fluctuations in Seniors' Poverty Rates in Canada from 1976-2019?
Keywords:
senior poverty , income inequality, retirement income, Low-income measure, Market Basket Measure, political economy
Abstract
In this article we consider the factors driving variations in poverty rates among Canadian seniors from 1976-2019. Using the international poverty line which is defined as living with less than 50 percent of national median income—measured in Canada through the Low-income measure after tax (LIM-AT)—senior poverty rates declined from 1980 to the mid-1990s but have since increased. Yet according to the Canadian government's official poverty indicator, the Market Basket Measure (MBM), senior poverty rates remain very low. We investigate these differences in poverty rates over time and consider the implications for seniors' health and well-being. We find that increasing LIM-AT poverty rates are being driven by growing income inequalities among seniors resulting from differential access to Canada's pension plan, employer-sponsored and private pension plans as well as growing income inequalities between seniors and the working-age population. The MBM is not sensitive to these growing inequalities. We consider these findings within a political economy lens that places Canada's undeveloped public pension system within the liberal welfare state's preference for the private rather than public provision of economic resources. We conclude with recommendations for research and action to ensure Canada's growing senior population is provided with the conditions and means necessary for health and well-being.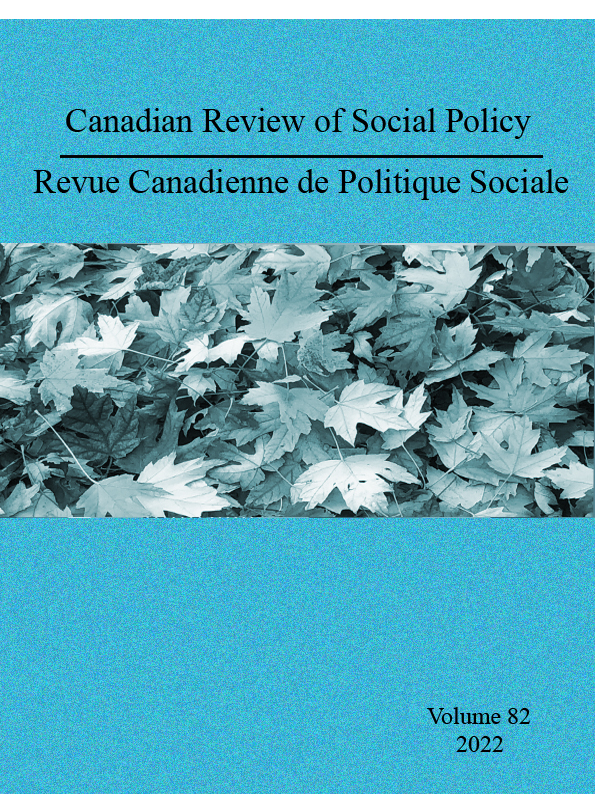 Downloads
How to Cite
Priyanka Sibal, & Dennis Raphael. (2023). What Is Behind the Fluctuations in Seniors' Poverty Rates in Canada from 1976-2019?. Canadian Review of Social Policy / Revue Canadienne De Politique Sociale, 82. Retrieved from https://crsp.journals.yorku.ca/index.php/crsp/article/view/40395
License
1-The author guarantees that the manuscript is an original work not published elsewhere in print or electronically in whole or in part, except in abstract form, that the author has the full power to make this contribution, and that the manuscript contains no matter libelous or otherwise unlawful or which invades the right of privacy or which infringes any proprietary right.
2-The author guarantees that the manuscript has not been previously published in print or electronically and that if the manuscript contains any tables, figures or images fully reproduced or closely adapted from previously published material, the author must obtain the necessary permission from the author/publisher holding the original copyright prior to publication in CRSP. The author may be required to produce evidence of permission granted to CRSP's editors.
 3-As a condition of publication in CRSP, the author assigns all copyright to CRSP, including but not limited to the right to publish, republish, and otherwise distribute this manuscript in print, electronic, or other formats. As CRSP is a non-profit interdisciplinary scholarly journal, the author will receive no royalty or other monetary compensation for the assignment set forth in this agreement.
For the purpose of full disclosure, CRSP will not normally use the content provided by the author in a commercial venture, but for the purpose of disseminating the author's content to as many readers as possible. For distribution, third parties engaging in commercial activities may be contracted to distribute the content globally, and such parties may make a profit out of the author's content in their normal course of business. CRSP will not pay the author or reimburse the author in any form based on such commercial activities because the conduct of such commercial activities is outside the control of CRSP.
Any future reference to or use of this published material by the authors must acknowledge CRSP as the original place of publication.
PERMISSION REQUEST/ARCHIVING
Permission is given to author(s) receiving funding via Tri-Council Agencies, the Canadian Institutes of Health Research (CIHR), the Natural Sciences and Engineering Research Council of Canada (NSERC) and the Social Sciences and Humanities Research Council (SSHRC), to make their publications freely available in an Open Access repository within the stated deadline by the Tri-Council Agencies (12 months following publication). Archiving of publication must be a manuscript copy bearing none of the CRSP headers, footers or any other distinguishing marks. No links to the article on the CRSP website is permitted.
 Permission requests from third parties to reproduce articles in part or full in academic/educational publications can be directed to the managing editor of CRSP, and will not be unreasonably denied.