Social Knowing, Mental Health, and the Importance of Indigenous Resources: A Case Study of Indigenous Employment Engagement in Southwestern Ontario
Keywords:
Indigenous, Social Knowing, Determinants of Indigenous Peoples' Health, Employment, Education
Abstract
This article addresses employment/unemployment engagement experiences of Indigenous peoples living in a region of present-day southwestern Ontario, as well as the wider socio-economic, cultural, and historical contexts of those experiences. The qualitative research study that informs this paper was conducted with and at the request of an Indigenous organization in southwestern Ontario with the aim of broadening understandings of the multiple factors that lead to disadvantages amongst Indigenous peoples living in a settler-colonial neoliberal society. Based on focus groups/sharing circles with 21 Indigenous youth and adults and interviews with local employers in southwestern Ontario, our study reveals that when Indigenous peoples have access to cultural knowing, critical Indigenous education opportunities, and strong support networks, they are better able to access and advocate for employment opportunities and their well-being. Yet, they face challenges in navigating these resources and spaces due to what Kristie Dotson (2014) refers to as 'epistemic oppression', issues related to poverty, mental health, and intergenerational trauma, all of which are intricately connected to settler colonialism and Canadian Federal Indian Policy. Overall, Indigenous organizations provide urban communities with pathways to, and respite from, neoliberal societal expectations.
Résumé
Cet article traite des expériences des peuples autochtones vivant dans une région du sud-ouest de l'Ontario quant à l'emploi et au chômage, et plus généralement, des contextes socio-économique, culturel et historique liés à ces expériences. La recherche quantitative sur laquelle est fondé cet article a été menée avec l'aide d'une organisation autochtone du sud-ouest de l'Ontario, par leur requête, afin d'approfondir notre compréhension des multiples facteurs qui défavorisent les peuples autochtones vivant dans une société de colonialisme de peuplement néo-libérale. À travers des groupes de discussion et des cercles de partage avec 21 Autochtones, jeunes et adultes, ainsi que des entrevues avec des employeurs locaux du sud-ouest de l'Ontario, notre étude démontre que les peuples autochtones sont plus en mesure d'améliorer leurs opportunités de travail et leur bien-être, ainsi que les défendre, lorsqu'ils ont accès au savoir culturel, à des possibilités d'éducation autochtones essentielles et à un réseau de soutien solide. Pourtant, ils peinent à utiliser ces ressources et les espaces en raison de ce que Kristie Dotson (2014) appelle « l'oppression épistémique », soit des problèmes se raccordant à la pauvreté, à la santé mentale et au traumatisme intergénérationnel, ces derniers étant étroitement liés au colonialisme de peuplement et à la politique indienne du gouvernement fédéral du Canada. Globalement, les organisations autochtones offrent aux communautés urbaines des débouchés ainsi qu'un répit face aux attentes de la société néo-libérale.
Mots clés: Autochtones; savoir culturel; déterminants de la santé des peuples autochtones; emploi; éducation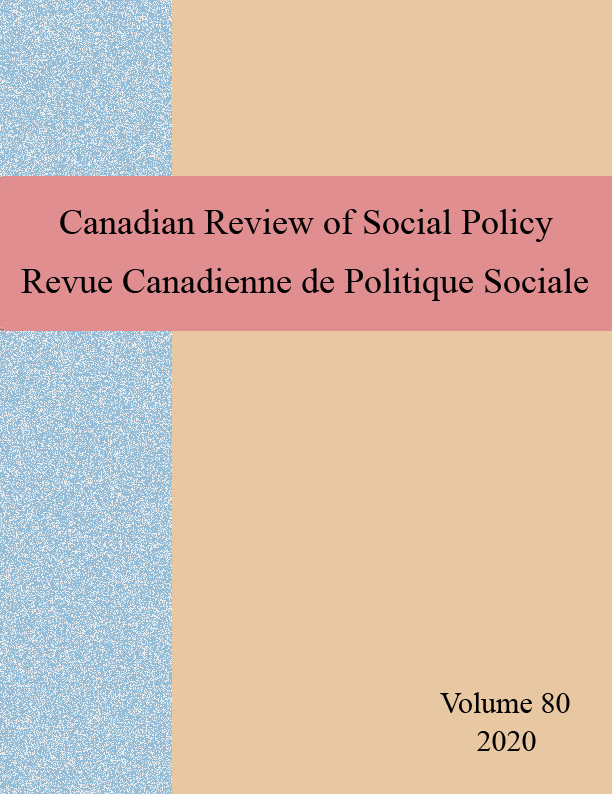 Downloads
How to Cite
Jewell, E., Doucet, A., Falk, J., & Fyke, S. (2020). Social Knowing, Mental Health, and the Importance of Indigenous Resources: A Case Study of Indigenous Employment Engagement in Southwestern Ontario. Canadian Review of Social Policy / Revue Canadienne De Politique Sociale, 80. Retrieved from https://crsp.journals.yorku.ca/index.php/crsp/article/view/40341
License
1-The author guarantees that the manuscript is an original work not published elsewhere in print or electronically in whole or in part, except in abstract form, that the author has the full power to make this contribution, and that the manuscript contains no matter libelous or otherwise unlawful or which invades the right of privacy or which infringes any proprietary right.
2-The author guarantees that the manuscript has not been previously published in print or electronically and that if the manuscript contains any tables, figures or images fully reproduced or closely adapted from previously published material, the author must obtain the necessary permission from the author/publisher holding the original copyright prior to publication in CRSP. The author may be required to produce evidence of permission granted to CRSP's editors.
 3-As a condition of publication in CRSP, the author assigns all copyright to CRSP, including but not limited to the right to publish, republish, and otherwise distribute this manuscript in print, electronic, or other formats. As CRSP is a non-profit interdisciplinary scholarly journal, the author will receive no royalty or other monetary compensation for the assignment set forth in this agreement.
For the purpose of full disclosure, CRSP will not normally use the content provided by the author in a commercial venture, but for the purpose of disseminating the author's content to as many readers as possible. For distribution, third parties engaging in commercial activities may be contracted to distribute the content globally, and such parties may make a profit out of the author's content in their normal course of business. CRSP will not pay the author or reimburse the author in any form based on such commercial activities because the conduct of such commercial activities is outside the control of CRSP.
Any future reference to or use of this published material by the authors must acknowledge CRSP as the original place of publication.
PERMISSION REQUEST/ARCHIVING
Permission is given to author(s) receiving funding via Tri-Council Agencies, the Canadian Institutes of Health Research (CIHR), the Natural Sciences and Engineering Research Council of Canada (NSERC) and the Social Sciences and Humanities Research Council (SSHRC), to make their publications freely available in an Open Access repository within the stated deadline by the Tri-Council Agencies (12 months following publication). Archiving of publication must be a manuscript copy bearing none of the CRSP headers, footers or any other distinguishing marks. No links to the article on the CRSP website is permitted.
 Permission requests from third parties to reproduce articles in part or full in academic/educational publications can be directed to the managing editor of CRSP, and will not be unreasonably denied.