"Journey to Freedom Day Act": The making of the Vietnamese subject in Canada and the erasure of the Vietnam War
Keywords:
Vietnamese, refugees, Cold War epistemology
Abstract
The Journey to Freedom Day Act (S-219), which passed on April 23rd 2015, marks the national day of commemoration of the exodus of Vietnamese refugees and their acceptance into Canada. The seemingly innocuous act of a national commemorative day masks the politicizing of the Vietnamese subject and aids in the erasure of the Vietnam War. A critical review of the parliamentary debates during the passage of this Bill over twelve months will reveal the systemic reliance on a Cold War discourse to act as a veil, concealing the making of the Vietnamese subject as grateful refugees, who actively reject communism and laud (western) democracies. The focus on this singular discourse facilitates the erasure of the Vietnam War and Canada's complicity in the war. Critical discourse analysis is used to examine the parliamentary text and findings are discussed using the theoretical lens of Cold War epistemology. This allows us to analyze the construction of the Vietnamese subject in relation to Canada, along frameworks of meaning making deeply rooted in the events and effects of the Cold War. I will comment on how social policy as a knowledge producing technology upholds and reproduces subject positions, thereby contributing to conditions of conflict within groups.
"Loi sur la Journée du Parcours vers la liberté": la construction du sujet vietnamien au Canada et l'effacement de la guerre du Vietnam
Résumé 
La loi sur la Journée du Parcours vers la liberté (Bill S-219) a été adoptée le 23 avril 2015, marque la journée nationale de commémoration de l'exode des refugiés vietnamiens et de leur arrivée au Canada. Cet acte, qui peut paraitre anodin, d'une journée de commémoration nationale masque la politisation du sujet vietnamien et aide à achever l'effacement de la guerre du Vietnam. Une revue critique des débats parlementaires pendant le passage de cette loi, sur une période de 12 mois, permettra de montrer que la création du sujet vietnamien comme étant un refugié reconnaissant qui rejette activement le communisme et embrasse la démocratie (de l'Ouest), dépend de manière systémique sur un discours issue de la guerre froide. La dépendance sur ce discours unique, facilite l'effacement de la guerre du Vietnam et le rôle qu'a jouer le Canada dans celle-ci. Mon examen de textes parlementaires utilise une analyse du discours critique, et les données sont interrogées en utilisant la perspective théorique de l'épistémologie de la guerre froide. Ceci permet d'analyser la construction du sujet vietnamien comme existant en relation avec le Canada, et appliquant des cadres de connaissances profondément enracinés dans l'historique et les conséquences de la guerre froide. Je propose que la politique sociale, en tant que technologie productrice du savoir, réifie et reproduit des sujets particuliers, et donc contribue aux conditions qui créent des conflits à l'intérieur des groupes.
Mots clefs: vietnamien; refugiés; épistémologie de la guerre froide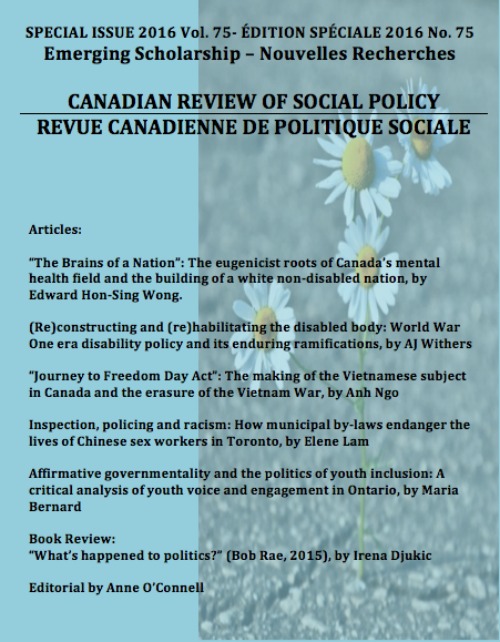 Downloads
How to Cite
Ngo, A. (2016). "Journey to Freedom Day Act": The making of the Vietnamese subject in Canada and the erasure of the Vietnam War. Canadian Review of Social Policy / Revue Canadienne De Politique Sociale, (75). Retrieved from https://crsp.journals.yorku.ca/index.php/crsp/article/view/40262
License
1-The author guarantees that the manuscript is an original work not published elsewhere in print or electronically in whole or in part, except in abstract form, that the author has the full power to make this contribution, and that the manuscript contains no matter libelous or otherwise unlawful or which invades the right of privacy or which infringes any proprietary right.
2-The author guarantees that the manuscript has not been previously published in print or electronically and that if the manuscript contains any tables, figures or images fully reproduced or closely adapted from previously published material, the author must obtain the necessary permission from the author/publisher holding the original copyright prior to publication in CRSP. The author may be required to produce evidence of permission granted to CRSP's editors.
 3-As a condition of publication in CRSP, the author assigns all copyright to CRSP, including but not limited to the right to publish, republish, and otherwise distribute this manuscript in print, electronic, or other formats. As CRSP is a non-profit interdisciplinary scholarly journal, the author will receive no royalty or other monetary compensation for the assignment set forth in this agreement.
For the purpose of full disclosure, CRSP will not normally use the content provided by the author in a commercial venture, but for the purpose of disseminating the author's content to as many readers as possible. For distribution, third parties engaging in commercial activities may be contracted to distribute the content globally, and such parties may make a profit out of the author's content in their normal course of business. CRSP will not pay the author or reimburse the author in any form based on such commercial activities because the conduct of such commercial activities is outside the control of CRSP.
Any future reference to or use of this published material by the authors must acknowledge CRSP as the original place of publication.
PERMISSION REQUEST/ARCHIVING
Permission is given to author(s) receiving funding via Tri-Council Agencies, the Canadian Institutes of Health Research (CIHR), the Natural Sciences and Engineering Research Council of Canada (NSERC) and the Social Sciences and Humanities Research Council (SSHRC), to make their publications freely available in an Open Access repository within the stated deadline by the Tri-Council Agencies (12 months following publication). Archiving of publication must be a manuscript copy bearing none of the CRSP headers, footers or any other distinguishing marks. No links to the article on the CRSP website is permitted.
 Permission requests from third parties to reproduce articles in part or full in academic/educational publications can be directed to the managing editor of CRSP, and will not be unreasonably denied.