Homelessness among older people: Assessing strategies and frameworks across Canada
Keywords:
policy, practice, aging, social exclusion, poverty, housing
Abstract
Homelessness among older people is expected to rise as a result of unmet need and demographic change. Yet, strategies and responses to homelessness across Canada tend to focus on younger groups, overlooking the circumstances and needs of older people (i.e., age 50+). This article reports the results of a content analysis of government planning documents on homelessness conducted in 2014. A total of 42 local, provincial, and federal strategies were reviewed to assess the extent to which they recognized and targeted the needs of older people. Our review resulted in three categories of documents: 1) documents with no discussion of homelessness among older people (n=16; 38%); 2) documents with a minimal discussion of homelessness among older people (n=22; 55%); and 3) documents with a significant discussion of homelessness among older people (n=4; 7%). Results indicate that while many strategies are beginning to consider older people as a subgroup with unique needs, little action has been taken to develop comprehensive services and supports for this group. We conclude with a call to integrate the needs of diverse groups of older people into strategies to end homelessness and to develop programs and responses that are suitable for older people.
L'itinérance parmi les personnes âgées: Évaluations des stratégies et des structures à travers le Canada
 Résumé
Il est prévu que l'itinérance chez les personnes âgées augmentera au cours des prochaines années, en raison des changements démographiques et des besoins non comblés que l'on observe actuellement.  Malgré cela, les stratégies et les réponses à l'itinérance au Canada tendent à être centrées sur les populations plus jeunes, ignorant les besoins et réalités des personnes âgées. Cet article présente les résultats d'une analyse de contenu des stratégies canadiennes sur l'itinérance effectuée en 2014. 42 stratégies ont été recensées afin d'évaluer dans quelle mesure elles reconnaissaient et ciblaient les besoins des personnes âgées.
Notre analyse regroupe en trois catégories les documents recensés : 1) les documents qui n'abordent pas l'itinérance chez les personnes âgées (n=16; 38 pour cent); 2) les documents  abordent très brièvement l'itinérance des personnes âgées (n=22; 55 pour cent); 3) les documents abordant de façon substantielle l'itinérance des personnes âgées (n=4; 7 pour cent). Les résultats indiquent que bien que plusieurs stratégies commencent à prendre en considération le fait que les personnes âgées constituent un sous-groupe qui présente des besoins particuliers, peu d'actions ont été entreprises afin de  développer des services et un soutien adaptés à leur réalité. Nous concluons en rappelant l'importance d'intégrer les besoins de différents groupes de personnes âgées aux stratégies qui visent à mettre fin à  l'itinérance et de développer des programmes et réponses qui sont adaptées à une population âgée.
Mots Clefs : politique; pratique; vieillissement; exclusion sociale; pauvreté; logement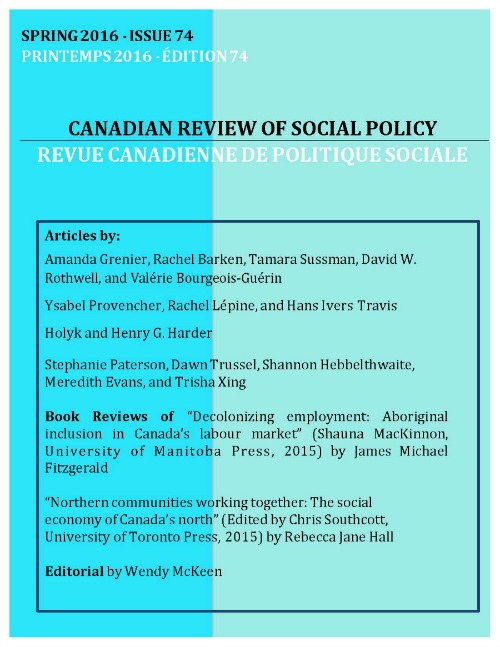 Downloads
How to Cite
Grenier, A., Barken, R., Sussman, T., Rothwell, D. W., & Bourgeois-Guérin, V. (2016). Homelessness among older people: Assessing strategies and frameworks across Canada. Canadian Review of Social Policy Revue Canadienne De Politique Sociale, (74). Retrieved from https://crsp.journals.yorku.ca/index.php/crsp/article/view/39889
License
1-The author guarantees that the manuscript is an original work not published elsewhere in print or electronically in whole or in part, except in abstract form, that the author has the full power to make this contribution, and that the manuscript contains no matter libelous or otherwise unlawful or which invades the right of privacy or which infringes any proprietary right.
2-The author guarantees that the manuscript has not been previously published in print or electronically and that if the manuscript contains any tables, figures or images fully reproduced or closely adapted from previously published material, the author must obtain the necessary permission from the author/publisher holding the original copyright prior to publication in CRSP. The author may be required to produce evidence of permission granted to CRSP's editors.
 3-As a condition of publication in CRSP, the author assigns all copyright to CRSP, including but not limited to the right to publish, republish, and otherwise distribute this manuscript in print, electronic, or other formats. As CRSP is a non-profit interdisciplinary scholarly journal, the author will receive no royalty or other monetary compensation for the assignment set forth in this agreement.
For the purpose of full disclosure, CRSP will not normally use the content provided by the author in a commercial venture, but for the purpose of disseminating the author's content to as many readers as possible. For distribution, third parties engaging in commercial activities may be contracted to distribute the content globally, and such parties may make a profit out of the author's content in their normal course of business. CRSP will not pay the author or reimburse the author in any form based on such commercial activities because the conduct of such commercial activities is outside the control of CRSP.
Any future reference to or use of this published material by the authors must acknowledge CRSP as the original place of publication.
PERMISSION REQUEST/ARCHIVING
Permission is given to author(s) receiving funding via Tri-Council Agencies, the Canadian Institutes of Health Research (CIHR), the Natural Sciences and Engineering Research Council of Canada (NSERC) and the Social Sciences and Humanities Research Council (SSHRC), to make their publications freely available in an Open Access repository within the stated deadline by the Tri-Council Agencies (12 months following publication). Archiving of publication must be a manuscript copy bearing none of the CRSP headers, footers or any other distinguishing marks. No links to the article on the CRSP website is permitted.
 Permission requests from third parties to reproduce articles in part or full in academic/educational publications can be directed to the managing editor of CRSP, and will not be unreasonably denied.