Between the Abuser and the Street: An Intersectional Analysis of Housing Challenges for Abused Women
Keywords:
domestic violence, gendered poverty, discrimination, housing policy
Abstract
This article provides an overview of the limited housing options available for abused women in Canada. The author explores the erosion of a commitment to housing for Canada's marginalized, the need for an intersectional analysis to fully appreciate the impact of this erosion, and then addresses the results: the exceedingly limited housing possibilities for abused women (shelters, second and third stage housing, social housing and the private market). The author draws upon qualitative interviews with abused women; government and non-governmental agency reports to argue that abused women in Canada, especially those marginalized by race and colonialism, have few alternatives between their abuser and living on the street.
Résumé
 Cet article fourni un aperçu des options de logement limitées disponibles pour les femmes violentées au Canada. L'auteur explore l'érosion de l'engagement au logement pour les personnes les plus marginalisées au Canada, et la nécessité d'une analyse intersectionelle afin de bien comprendre l'impact de cette érosion. Le résultat de cette analyse est inévitablement que les possibilités de logement sont extrêmement limitées pour les femmes violentées (les abris, les refuges de deuxième et troisième étapes, le logement social, et le marché immobilier privé). L'auteur utilise des entrevues qualitatives avec des femmes violentée et des rapport gouvernementaux et d'organisations non-gouvernementales pour démontrer que pour les femmes violentées au Canada, surtout celles qui sont également marginalisées par la race et le colonialisme, il existe peu d'alternatives entre leurs abuseur et vivre dans la rue.
Mot-Clefs: violence domestique; pauvreté genrée; discrimination; politique de logement.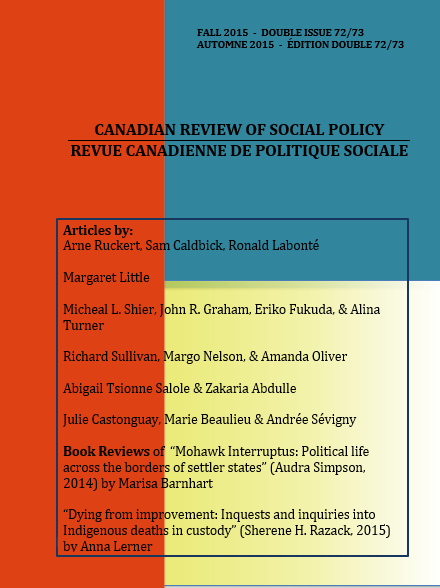 Downloads
How to Cite
Little, M. (2015). Between the Abuser and the Street: An Intersectional Analysis of Housing Challenges for Abused Women. Canadian Review of Social Policy Revue Canadienne De Politique Sociale, (72/73). Retrieved from https://crsp.journals.yorku.ca/index.php/crsp/article/view/37237
License
1-The author guarantees that the manuscript is an original work not published elsewhere in print or electronically in whole or in part, except in abstract form, that the author has the full power to make this contribution, and that the manuscript contains no matter libelous or otherwise unlawful or which invades the right of privacy or which infringes any proprietary right.
2-The author guarantees that the manuscript has not been previously published in print or electronically and that if the manuscript contains any tables, figures or images fully reproduced or closely adapted from previously published material, the author must obtain the necessary permission from the author/publisher holding the original copyright prior to publication in CRSP. The author may be required to produce evidence of permission granted to CRSP's editors.
 3-As a condition of publication in CRSP, the author assigns all copyright to CRSP, including but not limited to the right to publish, republish, and otherwise distribute this manuscript in print, electronic, or other formats. As CRSP is a non-profit interdisciplinary scholarly journal, the author will receive no royalty or other monetary compensation for the assignment set forth in this agreement.
For the purpose of full disclosure, CRSP will not normally use the content provided by the author in a commercial venture, but for the purpose of disseminating the author's content to as many readers as possible. For distribution, third parties engaging in commercial activities may be contracted to distribute the content globally, and such parties may make a profit out of the author's content in their normal course of business. CRSP will not pay the author or reimburse the author in any form based on such commercial activities because the conduct of such commercial activities is outside the control of CRSP.
Any future reference to or use of this published material by the authors must acknowledge CRSP as the original place of publication.
PERMISSION REQUEST/ARCHIVING
Permission is given to author(s) receiving funding via Tri-Council Agencies, the Canadian Institutes of Health Research (CIHR), the Natural Sciences and Engineering Research Council of Canada (NSERC) and the Social Sciences and Humanities Research Council (SSHRC), to make their publications freely available in an Open Access repository within the stated deadline by the Tri-Council Agencies (12 months following publication). Archiving of publication must be a manuscript copy bearing none of the CRSP headers, footers or any other distinguishing marks. No links to the article on the CRSP website is permitted.
 Permission requests from third parties to reproduce articles in part or full in academic/educational publications can be directed to the managing editor of CRSP, and will not be unreasonably denied.